TROLL WITH THE FINEST GUIDE SERVICE ON BIG BEAR LAKE.
JOIN US for some of the finest fishing on Big Bear Lake.
We are closed for the Winter season.
SEASON IS TYPICALLY APRIL THRU OCTOBER
Check back with us as the weather warms up!
---
Since 1991, Cantrell Guide Services has been operating on Big Bear Lake. Owner/Guide, John Cantrell and Master Guide, Cliff Fowler have a combined fishing experience on Big Bear Lake of 80 years. They know Big Bear Lake and they know how Rainbow Trout think.
---
YOU WILL CATCH RAINBOW TROUT. GUARANTEED!**
**During a 3-hour trip you will catch a rainbow trout or your next trip is on us!
Fish in comfort! We offer the only 24 foot pontoon Guide Boat on Big Bear Lake that has an 18 foot roof and a full enclosure that will keep you out of the wind and cold.
In Big Bear call John at: 1-909-585-4017 OR Cliff at: 1-909-239-7867
We now accept credit cards!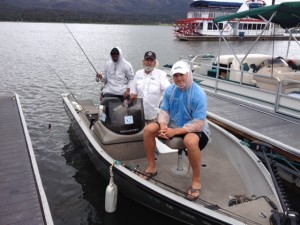 ---
Our mission is to work together with community partners to develop and implement programs that will sustain, protect and promote our fishery for the benefit of anglers and community partners.
---
General meeting February 16 2017 @ Denny's 5pm.
---
February 3, 2017
Hello, everyone:
The BBLFA is working on moving forward with the startup of the association. We are working from home due to the eight miles in two hour traffic conditions. As we all know between the much needed weather, when the sun comes up the traffic comes up!
FYI, March is near and Fred Hall Shows starts in Long Beach March 1st thru the 5th and volunteers are needed for the booth and then we move onto Bakersfield March 10th thru 12th which is a three hours and 150 mile drive away from Big Bear. From there, on the 23rd thru 26th we move onto Del Mar. All show dates volunteers are needed. Please call or text John Cantrell on his cell 1-909-585-4017 or email John at bbfishguy@aol.com
Update on the lake conditions as of this week: water level is up two feet from November and rising slowly. Conditions look great for a spawn this season with all the snow left on the ground. MORE FISH – thank you mother nature!
We're working on getting the BBLFA web site launched and we will be accepting memberships soon.
We hope in February to have a general meeting as weather permits.
We will notify you of any future meeting dates.
Feel free to contact the BBLFA email or John anytime.
Bottom line, remember the worst day of fishing beats the best day of anything else.
See ya at the scales!
Sincerely,
Big Bear Lake Fishing Association
info@bigbearfishingassociation.net
Fred Hall Shows:
Long Beach March 1st – 5th
Bakersfield March 10th – 12th
Del Mar March 23rd – 26th
http://www.fredhall.com/
—–> Click to Join the Big Bear Lake Fishing Association! <—–